´
Story of Klappacka
Klappacka is this longish wooden construction which can be folded.
English pronouncation is "cluppukkah", nearest Japanese pronouncation is "クラパカ" = "k(u)rapaka"
Idea
I like trains and want to be their ratio in the journey's trop to be as high as possible. When going through Balticum, on weekdays there are no trains between the borders (not yet?).
As I'm not used to long distance buses I decided to rather take a bike with me than to go into such a bus. But there are other parts of my journey where I definitely cann't take my bicycle so I looked for a way of storing my travel luggage for use with _and_ without bicycle.
As on bike panniers ("Packtaschen") are unbeatable and without bike I do like trolleys I thought about crossing this.
Final result is a wooden construction which can be taken on my bike as additional luggage and which can be unfolded to hold my panniers.
Construction
TODO: ... Explanation ...
Klappacka looks like this:
28-2-2019 Start
On February 28th, accompagnied by sunny weather the journey start. Klappacka is mounted on the bike.
First station is Hamburg Hbf (no photo).
01-3-2019 Germany - Poland - [Lithuania?]
In Hostel "Heart of Gold" in Berlin center Klappacka is waiting for next trip. It stayed outside over night in order to save time putting it on and off.
click here -> full size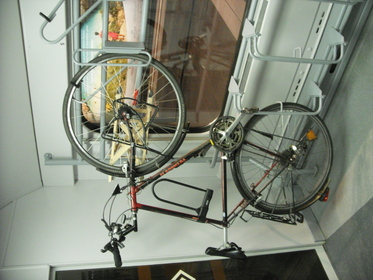 click here -> full size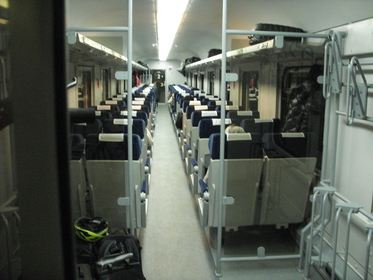 It turned out that fortunately Klappacka has no problems to be fixed on a 90° turned bike, so in train there was also 0 time needed putting it on and off.
click here -> full size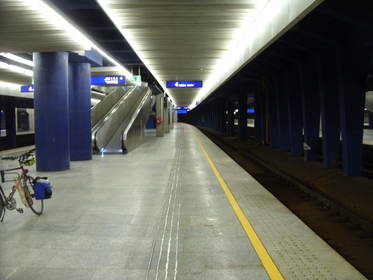 Klappacka in Warszawa Central. The rolling ramp ist very convenient.
click here -> full size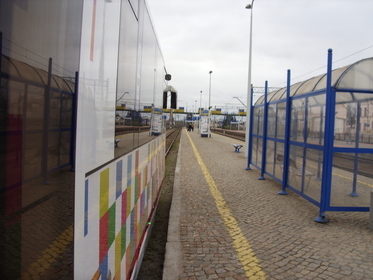 click here -> full size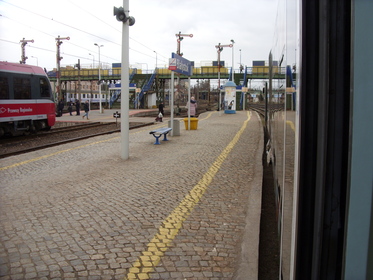 Sometimes Klappacka want's to see some panorama. So it's owner lugged it up the stairs with bike and luggage here in Suwalki (left photograph). Of course the lower variant (right photograph) would have been more convenient, but owner does everything for Klappacka (or ... maybe for own thoughtlessness or maybe because he was a bit in hurry.)
02-3-2019 - Lithuania - Latvia
The way in Lithuania was pretty normal - Klappacka was mounted on bike.
This double train (Kaunas-Vilinus) was very crowded, but it had some hanging facilitis for 7 bikes in the door Klappacka entered.
click here -> full size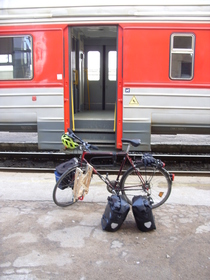 click here -> full size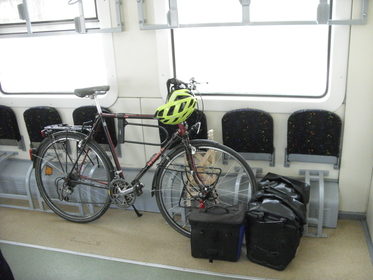 This old train (Vilnius - Daugavpils) has big narrow steps, but as soon as you ascended, Klappacka can feel the serenity in all aspects (.. e. g. train speed) - there is no other bike and train is not too crowed so it's no problem to let it stand on the floor.
click here -> full size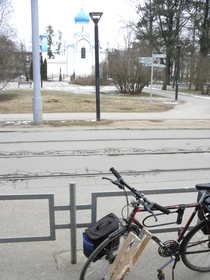 Klappacka bike. Right-behind is Daugavpils University, Left-front (outside picture) is Unity House.
Then in hostel in Daugavpils (Thanks tourist information for pointing the right out) the big transformation took place - Klapacka has now it's full size and looks like this:
Klappacka unfolded. In the train it could be put on the [Ablage]:
03-3-2019/04-3-2019 - Latvia (Riga) - Russia (Moscow)
Originally Klapacka wanted to stay in Yaroslawskaya station, but the luggage department there had some strange mathematical views (counting Klapacka with 2 panniers as 3 pieces of luggage, along with 3 other pieces resulting in 6*230₽ = 2300 ₽ (RUB). After refuse to store Kapacka under these numerical condition, bill reduced to 3*230₽ = 920 ₽ ... creative calculation ...) for remaining luggage so Kapacka decided to come with owner on Moscow tour, even in the actual weather condinion.. There it saw the Kreml:
05-3-2019/12-3-2019 - Russia (Moscow - Vladivostok)
In the Russian long-distance sleeper train from Москва Ярославская = Moskow Yaroslavskaya to Владивосток = Vladivostok the space for luggage is typically very crowded. On following image you see Klappacka did fit well under the seat.
The Владивосток = Vladivostok station is old, but newly renovated, e. g. the staircase.
click here -> full size (unfortunately not as sharp as it could be)

12-3-2019/13-3-2019 - Russia / South Korea (Vladivostok - Andong)
On the way to the ferry in Владивосток = Vladivostok: click here -> full size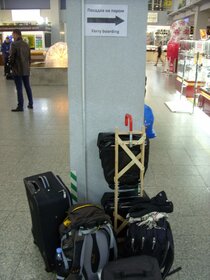 On the ship the waves were high and wind was strong but Klappacka, made of wood and steal, had no problems with that.
동해 = Donghae station (first image: front) sadly has no panorama-view bridge, says Klappacka. Fortunately, says owner, it has a level crossing (second image). This level crossing is operated manually (so you don't have access to platforms at all when there's no passenger train).
click here -> full size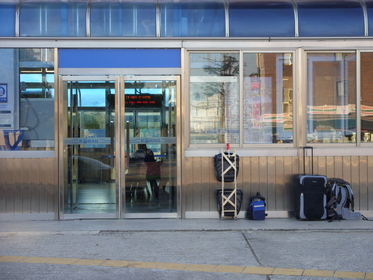 click here -> full size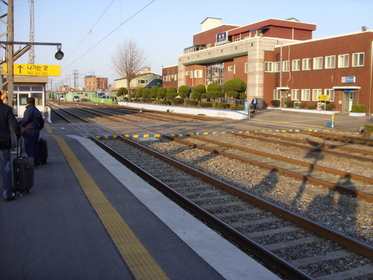 In the medium-distance train in South Korea there's no space for Klappacka with bicycle but alone it fits very well. It is notable that the air conditioning is pretty silent so you actually hear the car rolling over the tracks. [Update: depends on the actual setting. Some cars have louder air conditioning, keeping lower temperature.]
click here -> full size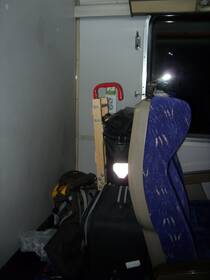 click here -> full size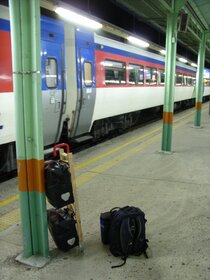 14-3-2019/15-3-2019 - South Korea / Japan
In South Korea the last train to 부산 = 釜山 = Busan was some high speed train (300 km/h).
click here -> full size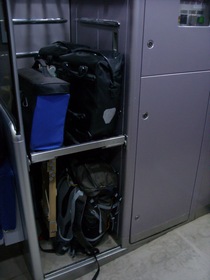 click here -> full size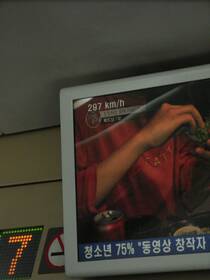 부산 = 釜山 = Busan train station is very big.
Klappacka also fits on ferry boths, see here the ferry from 부산=釜山=Busan to 博多=Hakata (福岡=Fukuoka):
This is what you see when stepping from Hakata International Passenger Terminal to 福岡市 (the city of Fukuoka).
Klappacka visits Fab Lab Oita (大分市 = city of Ooita) on open Friday Evening:
16-3-2019 - Japan (Beppu)
Next day Klappacka remains in town while owner goes to a 810 m mountain in 別府=Beppu (while GPS device shows 830 m ...)
click here -> full size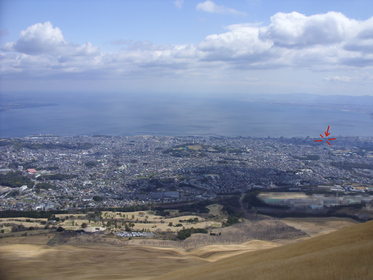 click here -> full size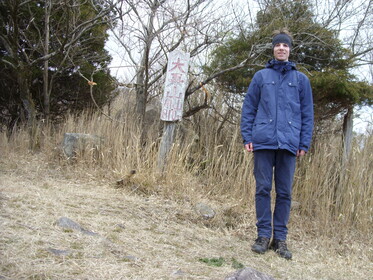 17-3-2019 - Japan (Beppu - Onomichi)
When leaving 別府市 = city of Beppu on Sunday, Klappacka is given a brass band pop concert at the station.
Limited Express' Sonic trains seats make it easy to sleep in them.
Sanyo train line is a long route which is split up in different trains. So Klappacka did see different generations of those local trains. The newer train even has won some design award.
click here -> full size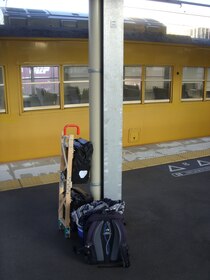 click here -> full size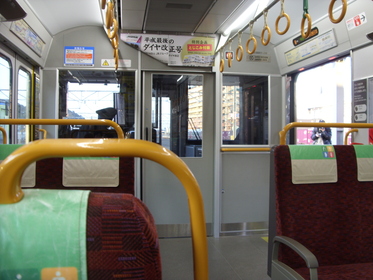 Here you can see Klappacka near the next station, 玖波駅=Kuba inside a new train. Kuba names a quarter of 大竹市 = city of Otake.
Klappacka was told it was a must-do for foreign and not-foreign people to visit 大鳥居=Otorii, which is part of 厳島神社 = Itsukushima Shrine (大鳥居 is the reverent way of saying 鳥居). So it did. It was a bit late for all the museums, souvenir shops etc. on Miyajima (= 宮島 = Isle of Miya = 厳島=Itsukushima ?) but not too late for the decently illuminated part of Buddhist shrine which was, for some reasons of practically coping with some religious rules in former times, build up in directly the sea, accessible via boat in case of high tide and by foot in case of low tide.
Version information
2. März 2019: Veröffentlichung bis zum Punkt "Klappacka unfolded"
6. März 2019 Veröffentlichung bis Moskau
13. März 2019: Veröffentlichung bis Donghae, kl. Korrektur Moskau
19. März 2019: Veröffentlichung bis Onomichi, kl. Korrektur Südkorea, Side-by-side-images possible.